Door Hangers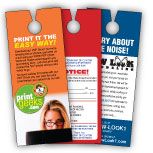 Door hangers are perfect when you want to target residential customers for pennies each. Print paper door hangers as a direct, simple, and effective advertising option that can help generate more business while you get a little exercise.
Walk up and down the street around every job you finish, or target specific areas in a marketing campaign, and watch the phones ring.
Door hanger printing is also ideal for hotels, car washes, realtors, political advertising...the applications are endless!
We sell pre die-cut door hangers in a variety of shapes, sizes and stocks. Or, for more impact, we can custom print and die-cut door hangers to your specifications.