Forms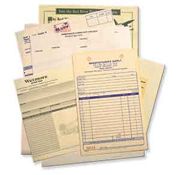 Forms are the paper engines that drive your company.
No matter what business you're in, forms keep your company running. Forms help you communicate and receive vital information:
» Purchase Orders
» Invoices
» Statements
» Time Cards
» Applications
» Employment Forms
» Delivery Receipts
» Memos
» FAX Cover Sheet
» Continuous Computer Forms
» Laser Printer Forms
» Snap Out Sets
... and so many more!
You name it...we print it!
It's very important that your forms function well, and represent your company in the best possible way. We can help you design and print forms that work best for you. And don't forget...adding color to your forms will dramatically enhance use.
What's more, we can electronically archive your most used forms in our Document Library to make ordering as easy as the click of a mouse.
Ask a customer service representative for more information about our design and print service, and about our innovative Document Library for your most commonly used forms.