Retractable Banner Stands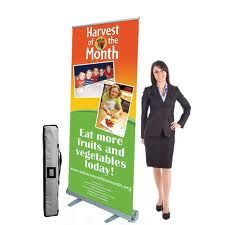 Retractable banner stands are generally considered the easiest and most convenient trade show banner display to use, which is why they have become the most popular style of banner stand, both for trade show and retail banner displays.
They are also very popular for promotional displays in stores, shopping malls, theaters, airports, and conventions. Also called roll up banner stands or pull up banner stands, they get their name because they have a mechanism that retracts the banner into the base when it's not in use. You simply pull up the retractable banner like you would pull down a window shade, and attach the head rail to the top of a support pole. A single person can easily set up a retractable banner stand in under 1 minute.