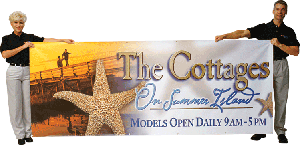 Why do you need Signs, Posters and Banners?
Signs, posters and banners can help you build brand awareness and brand loyalty, generate leads and retain customers. Whether you're a retail store, small business, or corporate marketing, training or human resources department, we can help you with sales promotions, window and store signs, presentation support, or trade show and event marketing.
Like everything we do at Minuteman Press, we use the latest equipment and digital technologies to produce the sharpest resolution in color (or black & white) to create the greatest impact, giving you the greatest return on your investment.
To customize your message, you can choose from an almost endless selection of sizes, and print on paper, cloth, vinyl, canvas, or any number of other materials. We even laminate, mount, add grommets or help you with any other type of hanging or assembly.
Have a BIG idea, or need us to help you with one? Make a big impression with signs, posters and banners by Minuteman Press!